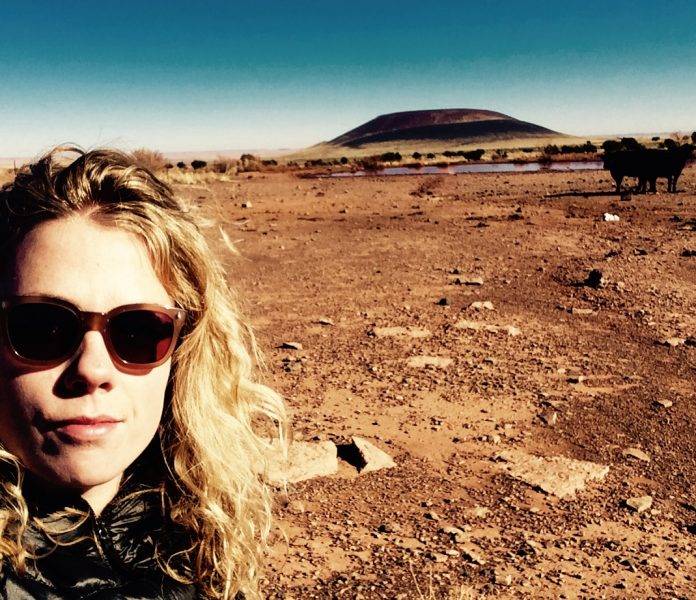 I discovered Kombucha on a trip to the U.S a few years ago. I instantly loved it's refreshing taste and the clean energy burst it gave me but it wasn't until a few years later that my journey with this powerful drink helped to heal my body from IBS and ultimately change the course of my life.
In December 2015, I flew to America for a job, working as a creative and set designer. At the end of the trip, I decided to go on a mission to find a special place that I have dreamt of for years: Roden Crater. Roden crater is a sacred spot, located where Navajo reservation land meets the painted desert and is where my hero, the artist, James Turrell, has built a naked eye observatory designed to see the changes of sky, solar and celestial phenomena. The observatory is closed to the public but I couldn't take no for an answer so I hired an SUV and set off on my nine hour solo drive from LA to Arizona.
It was an epic adventure. I got very lost, I slept in my car even though it was so cold my water bottle froze. I drove up the wrong crater and nearly hit a cow going down the other side – a bovine disaster! I was well and truly off the grid by this point and had to buy a topological map from a nearby town to guide me to the ethereal motherland that is Roden Crater.
Looking around, the horizon was empty, except for a small ranch overlooking the crater. Something compelled me to drive up the dusty road up to the house. Maybe James Turrell lived there? Or someone who could help me on my quest to get inside the crater.
I knocked on the door and was met by a pair of piercing blue eyes that belonged to a strikingly beautiful woman who calmly exclaimed 'you've arrived' and invited me in for tea. This woman turned out to be one of the most incredible humans I have ever met and it became clear to me that my burning mission to see the crater was actually meant to bring me here.
We spent all day together and at the end of it we had decided that her ranch would be the place where my partners festival, Restival, would take place – a festival about disconnecting to reconnect through nature.
A few months later, I found myself back at the ranch, overlooking Roden, with the Restival crew, admiring the landscape and drinking Kombucha. We had been drinking it all the way from LA, and were by now all hooked on its tart, sweet taste and delicious goodness and benefits. After a few days of drinking it, I noticed that my IBS symptoms had pretty much disappeared. Having struggled with this painful disease since my early 20's, I had tried everything I could to manage it with little success, until now.
That evening, I climbed up to the ridge at sunset, sat down and had a panoramic view of the Painted Desert in all it's glory. It was at this moment I wrote the magical line on a piece of paper: can I start a Kombucha company?
That was the moment Wild Fizz was born. From then on I was obsessed, and arrived back to the UK with a need and a love for the 'booch'. I started learning how to brew it at home. I tried all the brands available on the market. I found that none of them had the same quality of flavour as the ones I had in the States, and so I got in touch with the brand I most adored in LA and they kindly helped me with some advice.
It took months of experimentation, and lots of different types of tea and ingredients before I settled on the three flavours we have now, all brewed from my bedroom! I started selling at Primrose Hill market on Saturdays and had such positive feedback, I took the decision to really go for it. I got the help of a master beer brewer, and started installing specially designed tanks in a space up in Tottenham, north London. Since then, we have been going from strength to strength and since about a year ago my life partner Luke has been part of the team too.
It's been a crazy time with too many sleepless nights and a lot of worry and stress. But it's been worth it. We got our organic certification this spring which was an amazing feeling and we also recently got stocked in Whole Foods and Planet Organic.
Running a drinks company is a whole new world for both my partner and me, something I never in a million miles thought we would do.
But I am grateful for it, because it's changed my life. It's changed the way I feel from drinking it, and it's changed the way I live and work, for the better.
Every day we ask ourselves how we can make the company more ethical, more environmentally friendly and more socially aware. Every bottle is made with love, using only the best and most natural ingredients. My standard is that I have to feel better when I drink it. And I do. I feel stronger, healthier, more energized and best of all, my IBS is pretty much a thing of the past.
It's weird to think that it all started with a view of a crater. But at the same time, not weird at all. I feel like the landscape allowed me to open up, and see a new path in my life, one which I will be eternally grateful for.
Gina x